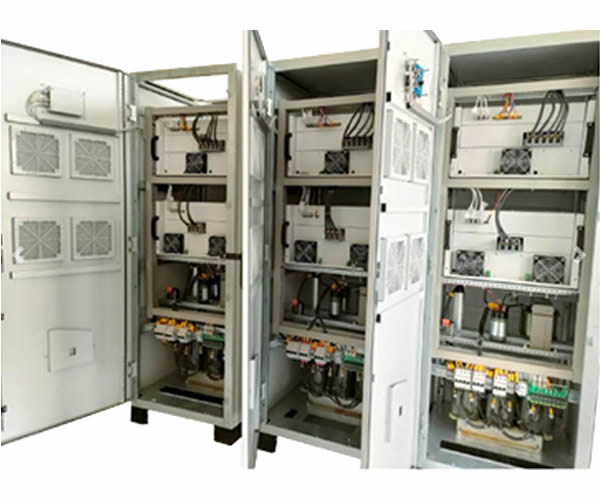 It can be designed according to the desired power and energy options in power electronic devices.

It can be designed in different ways for ups, inverter, modular structure.

For Ups, this panel includes UPS-33 and similar devices.

Powered by User-Friendly HMI options.

It can be adapted to the desired device dimensions in panels in accordance with IP standards.
Input Characteristics
Rectifier
6/12-pulse SCR rectifier or IGBT rectifier
Rated input voltage
380/400/415VAC, 4-wire (A, B, C, PE)
Rated operating frequency
50Hz/60Hz
Input voltage range
-20%~+15%
Input frequency range
-10%~+10%
Input power factor
up to 0.95 (SCR) up to 0.99 (IGBT)
DC Characteristics
Blocking Diode (Optional)
Inside UPS Cubicle
DC switch
Inside UPS Cubicle
Nominal voltage
110/144/220/360VDC (or customizable voltage level)
Battery type
Lead acid, nickel cadmium
Inverter output voltage
Single-phase 110/220VAC (5-60kVA) / three-phase 380/400/415VAC (10-100kVA)
Output power factor
0.8
Voltage stability (Steady state)
<± 1%
Voltage stability (Transient)
(0-100%) <±10%
Transient response time
(20-150) ms
Inverter overload capacity
110%: 10 minutes, 125%: 2 minutes, 150%: 10 seconds
THDv (100% linear load)
3%
THDv (100% non-linear load)
8%
Efficiency
up to 90% (depends on power rating)
Bypass
Bypass input voltage
Single-phase 110/220VAC/ three-phase 380/400/415VAC
Bypass voltage range
-10%~+ 10%
Maintenance bypass switch
Make before break maintenance switch
Static Switch
Frequency
50Hz/60Hz
Frequency synchronization
± 5% Hz
Overload capacity
1000% 100ms
System
Noise
53~70dB
Ingress Protection
IP20 up to IP42
Color
RAL7035 (other colors according to customer requirements)
Cable entry
Bottom (top cable entry as option)
HMI
It can be download from webpage
Communication interface
MODBUS RTU RS485 (SNMP, IEC61850, MODBUS TCP option)
Free contacts
Programmable 8 dry contacts from HMI
Operating Environment
Operating temperature
Range 0 to 50 °C (constant operation at full load at 40 °C)
Relative humidity
0 to 95% without condensation
Altitude
≤ 1000m; above 1000m, load is derated by 1% for every increase of 100m